Each day at my office is full of joy and laughter!
I love spending time with kids, trading (and often stealing!) their best jokes, appreciating each unique, growing personality, and getting to know them and their families. It is especially rewarding to help families when they have nowhere else to go: taking away the fear that no one will help them, and showing them that I care and am here to help.
As a pediatric dentist, I have the opportunity to make a positive difference in children's lives. When children know they are heard and valued, they are comfortable and open to learning. That openness is essential, as I want to teach each child about oral health, and how to keep their teeth and gums clean and strong.
At the same time, by making the office a fun place to visit, my team and I help children develop positive associations with dental care. Our goal is for patients to graduate to a general dentist with their healthiest, happiest smile — and excited to maintain their oral health for life!
Education and Ongoing Learning
Growing up, I always knew I was loved and safe when visiting the dentist, and I felt a strong desire to go into a profession that allowed me to really help people. I've always been great with kids, too, so pediatric dentistry was a natural fit.
My undergraduate studies were right here in the Quad Cities: I graduated from Augustana College in Rock Island with my bachelor's degree. I attended dental school, and obtained my Doctorate of Dental Medicine, at Southern Illinois University School of Dental Medicine. Next came my pediatric dentistry residency at the University of Iowa.
In 2015, I was certified by the American Board of Pediatric Dentistry.
My residency covered all aspects of the oral health concerns of children. It included prevention, diagnosis, treatments, and behavioral management, as well as craniofacial growth, trauma and emergency care, and safe sedation. It also addressed caring for children and adults with special health, emotional, and developmental needs, and children with complex medical conditions.
That said, the pediatric dentistry specialty is constantly advancing. Through continuing education (CE), I stay current on the latest research, technological innovations, and new materials and methodologies. My patients deserve high-quality dental care, and CE allows me to provide it.
I'm a member of the American Academy of Pediatric Dentistry, American Dental Association, and Rock Island District Dental Society. Through these organizations, I learn from the leading practitioners, by taking courses and attending meetings, lectures, and seminars. I also read the latest journals and other peer-reviewed periodicals.
Personal Life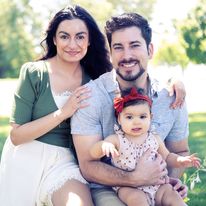 I grew up in Rockford, Illinois, and now call Davenport, Iowa my home. Alisha, my wife, is from this area and we met at Augustana College. She is now a pediatrician serving the Quad Cities.
Alisha and I have a wonderful daughter, Armeena, and a pup, Mocha. Being with my family, whether I'm goofing around with my daughter, making my wife laugh, or being bossed around by my dog, is when I'm at my happiest! A close second, though, is time I spend tinkering with my telescopes, getting ready for a clear night under the stars.
Final Thoughts
Being surrounded by children, sharing in their lives and all they experience as they mature, is the most rewarding career. Having a patient leave with a smile — even if it's a little lopsided from being numb — and telling my team and me they can't wait to visit again, is the best!